Jamsta Productions Pty Ltd | +61 432 73 963 | jeremy@jamsta.com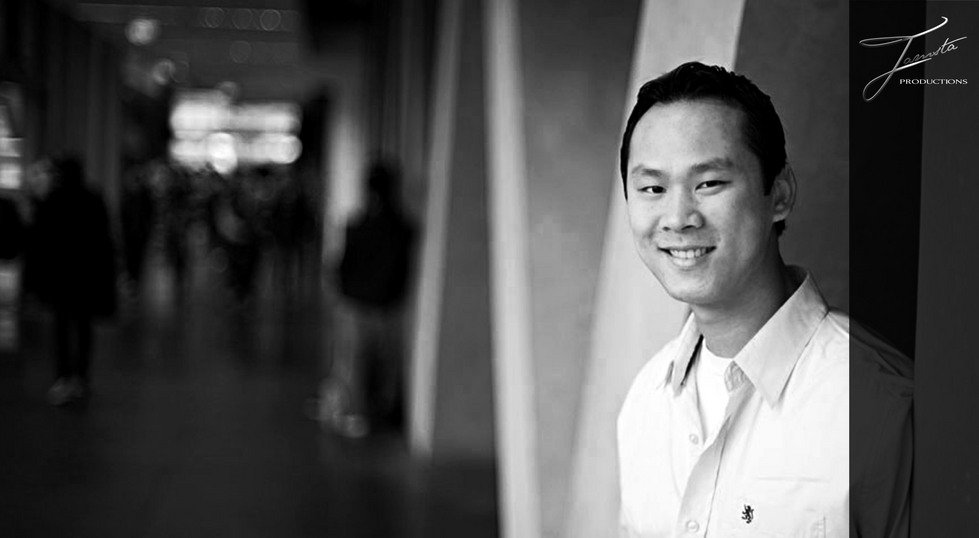 AUGUST, 2013


​
A big G'day from the Carnival Magic! I've been onboard this beautiful ship for 2 months now and thought I'd fill you in on the latest on what's been going on, life onboard, the work we do and places we visit!
​
A small introduction on the ship: The Magic is Carnival Cruiseline's 2nd newest ship out of the fleet of 30, built in 2011 from Italy. She weighs 128 tons, spans 306m in length, houses almost 1,400 crew and over 4,700 guests. We rotate doing three different 7-day tours leaving Galveston TX every Sunday: Eastern Caribbean (Key West, FL; Freeport & Nassau Bahamas), Western Caribbean (Montego Bay, Jamaica; Grand Cayman, British Virgin Islands; Cozumel, Mexico) and Exotic Caribbean (Roatan Island, Honduras; Belize; Cozumel, Mexico). The ship features all the usual works: Theatre lounge, casino, shops, atrium stage, bars-pubs, spa-salon, disco, cafe plaza, restaurants, sports & recreation centre, swimming pools, a HUGE waterslide and one of the only ships that features a high-ropes course!

The Carnival Magic Magic docked in Cozumel, Mexico

The Showband that I work with is a 7-piece band, which includes a three horns (trumpet, trombone & sax). I'm very excited about that, as it's an increase from the two 5-piece bands I played in on my previous contract. We're able to play a lot more songs with greater dynamic and flair! We play 6 nights a week with one day off a week. This ship is non 2.0 entertainment format which means I'm back playing in the production shows again! Exciting stuff, as I missed it a lot when I was playing 2.0 mid-lounge sets on the Glory.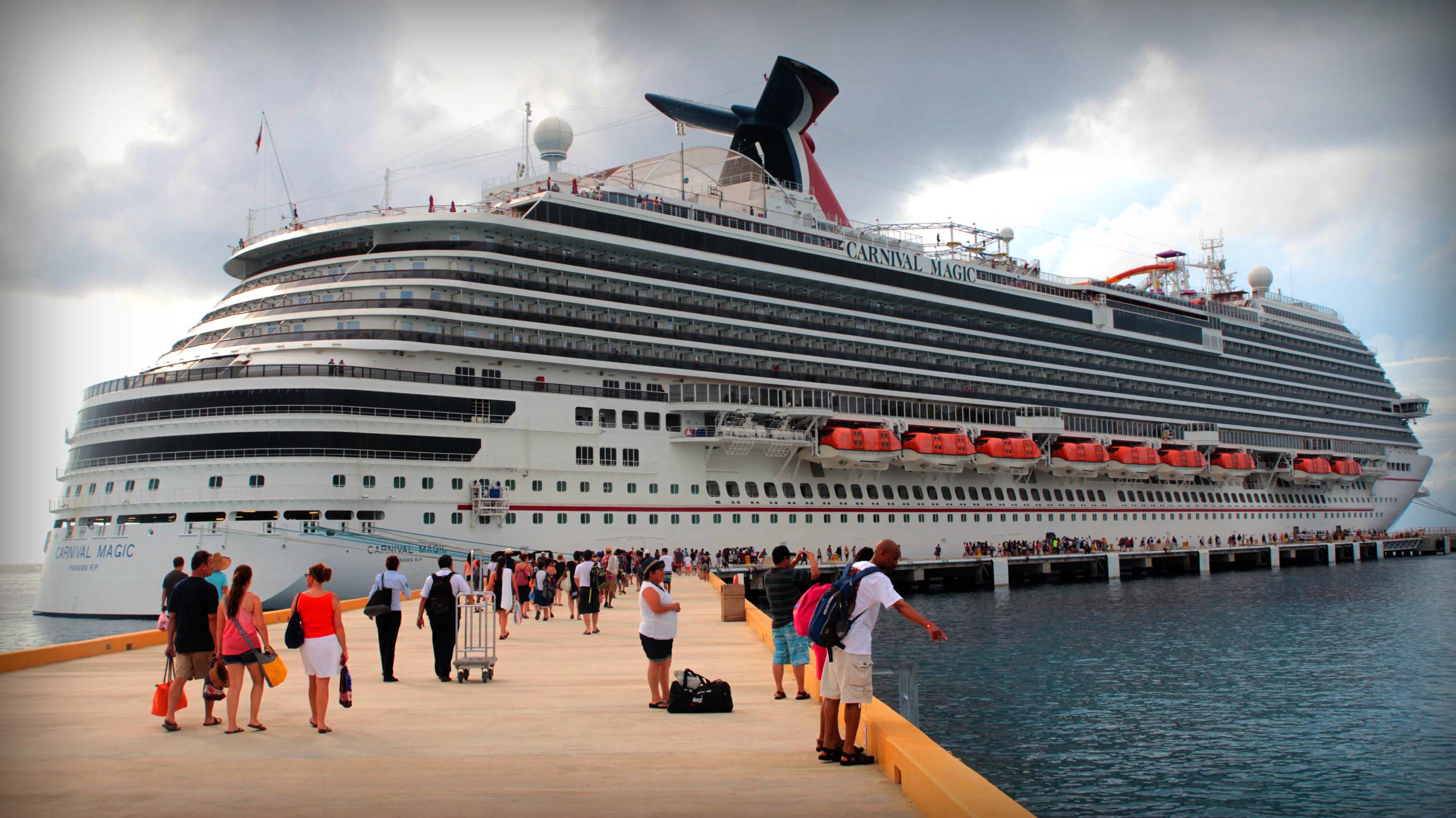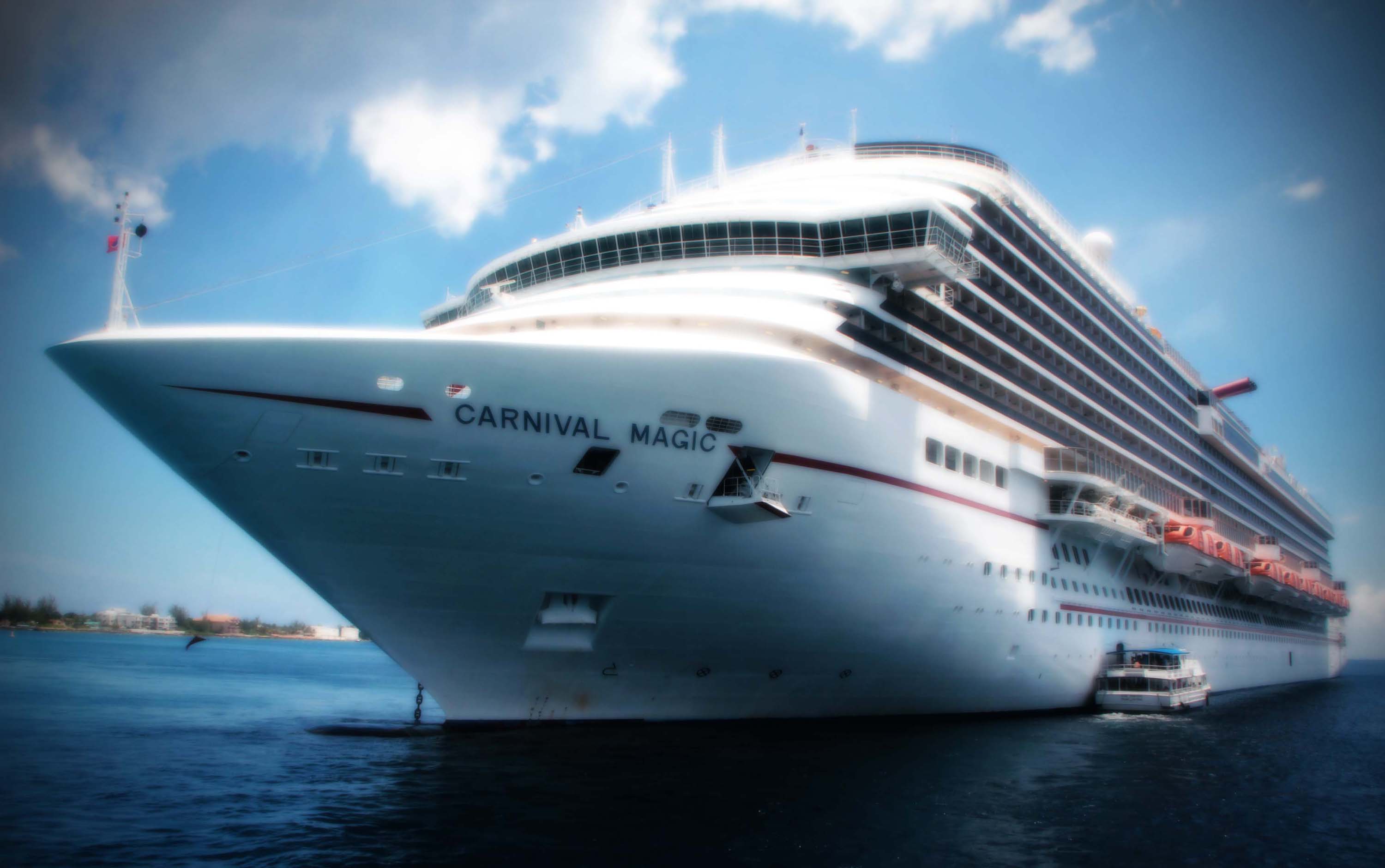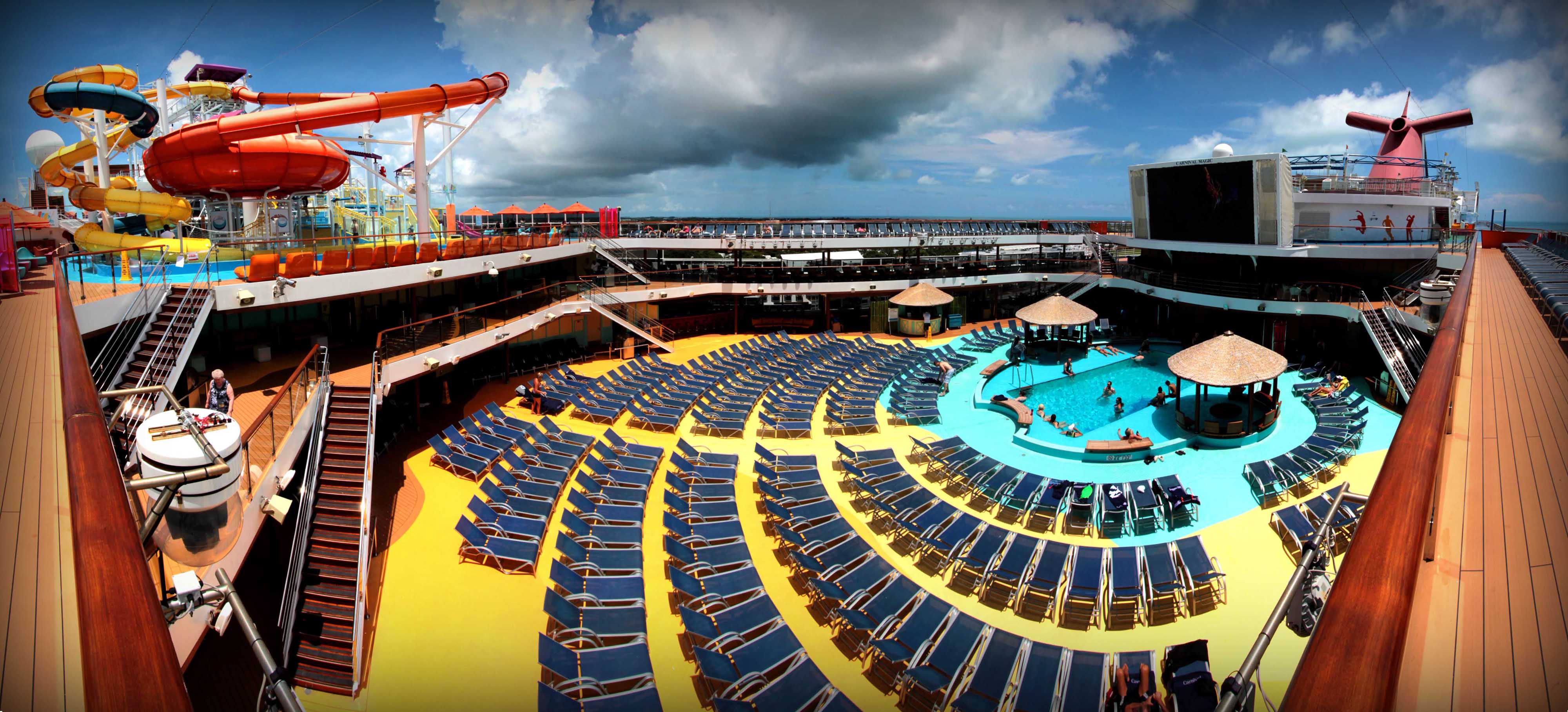 The Lido Pool deck with Waterslide Funpark on the left and Bigscreen on right The outdoor Sports Centre with high-ropes Skycourse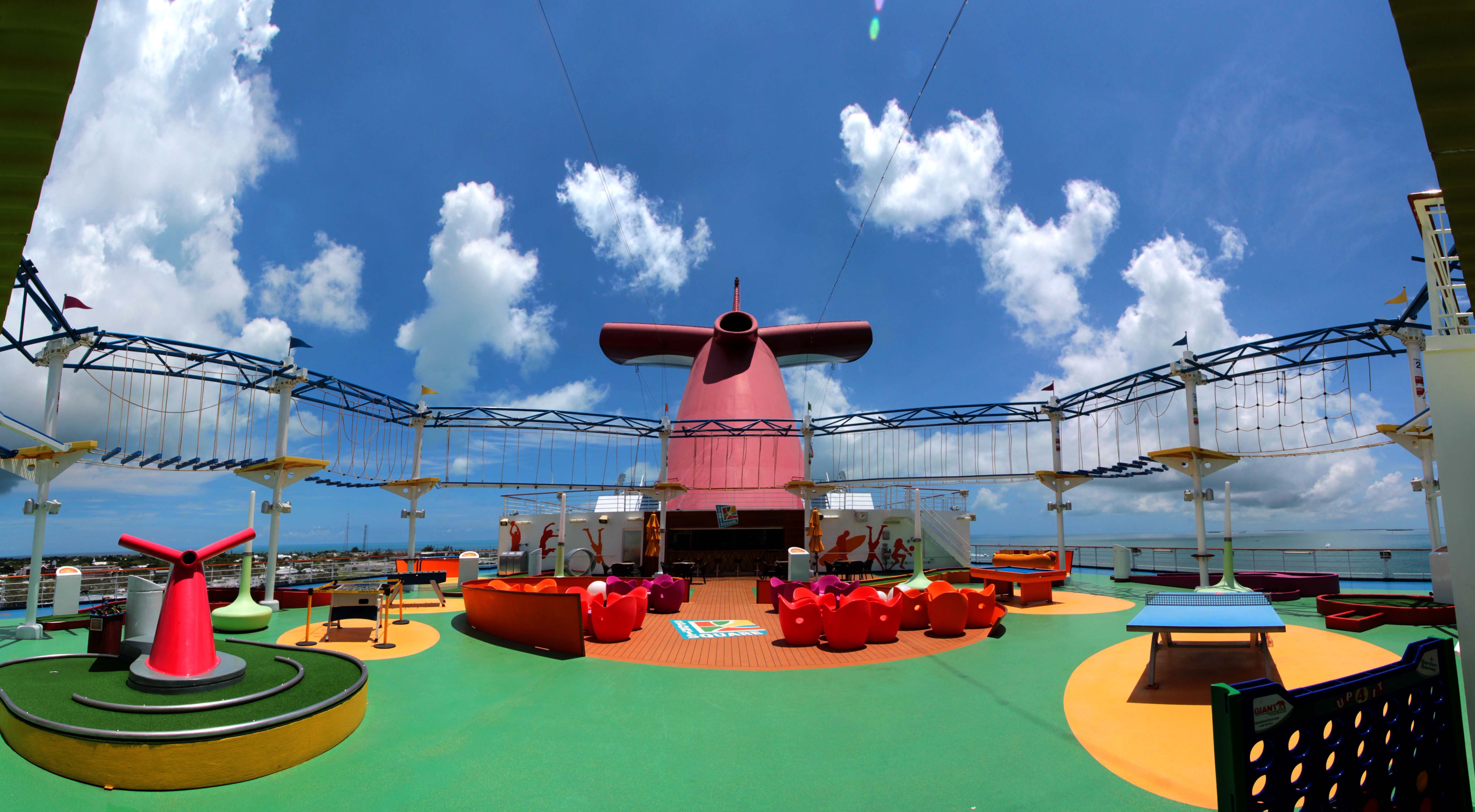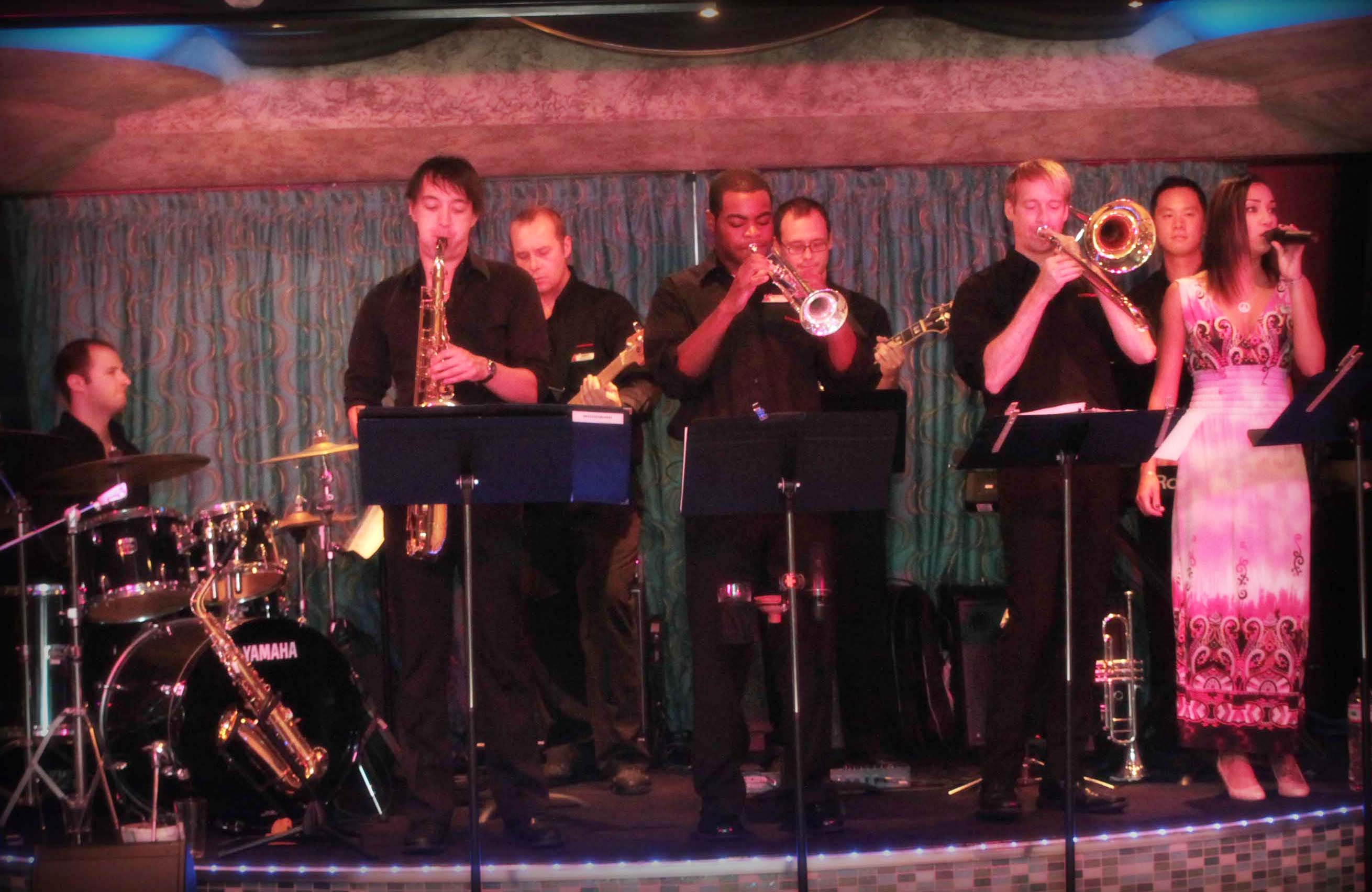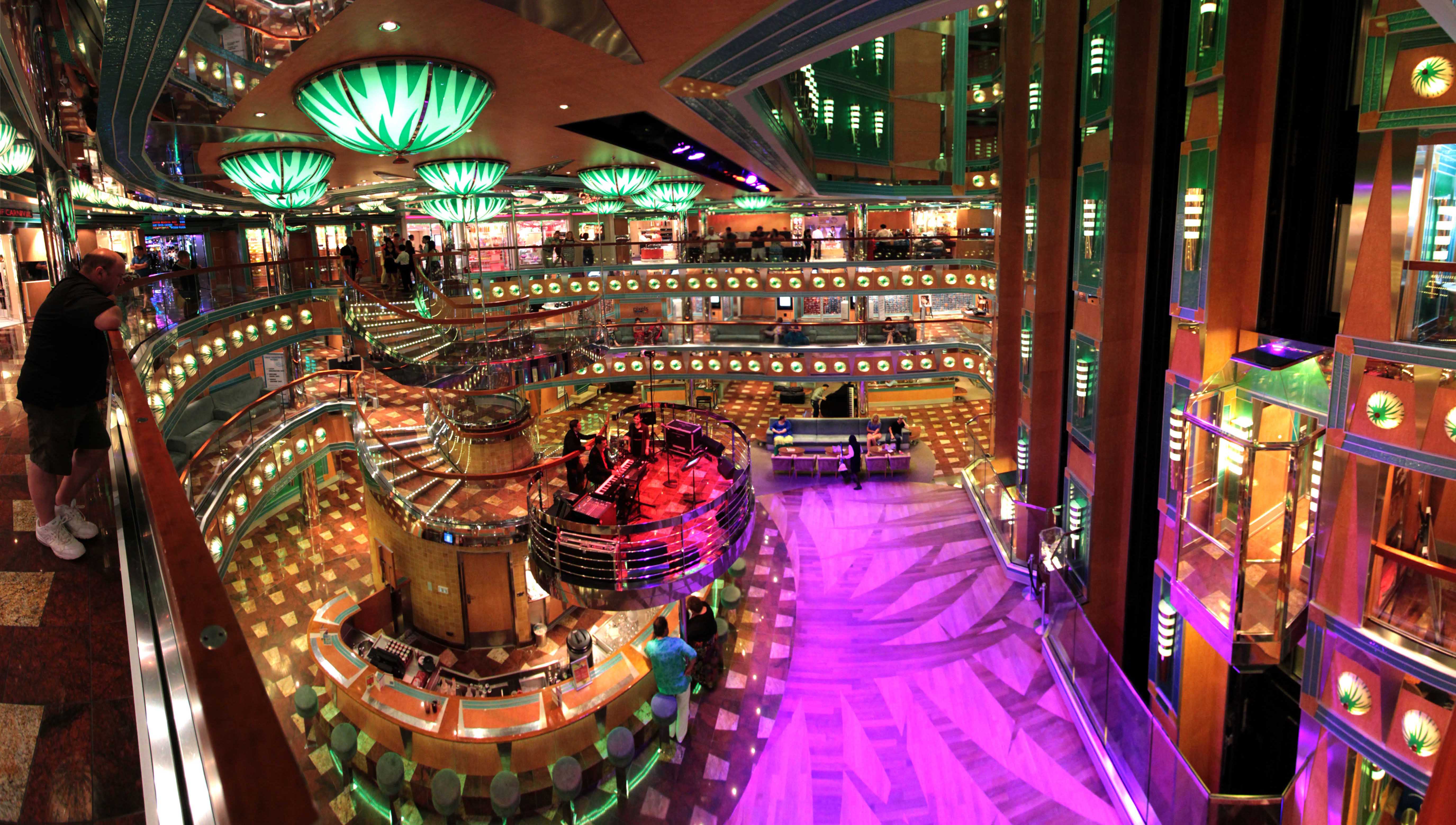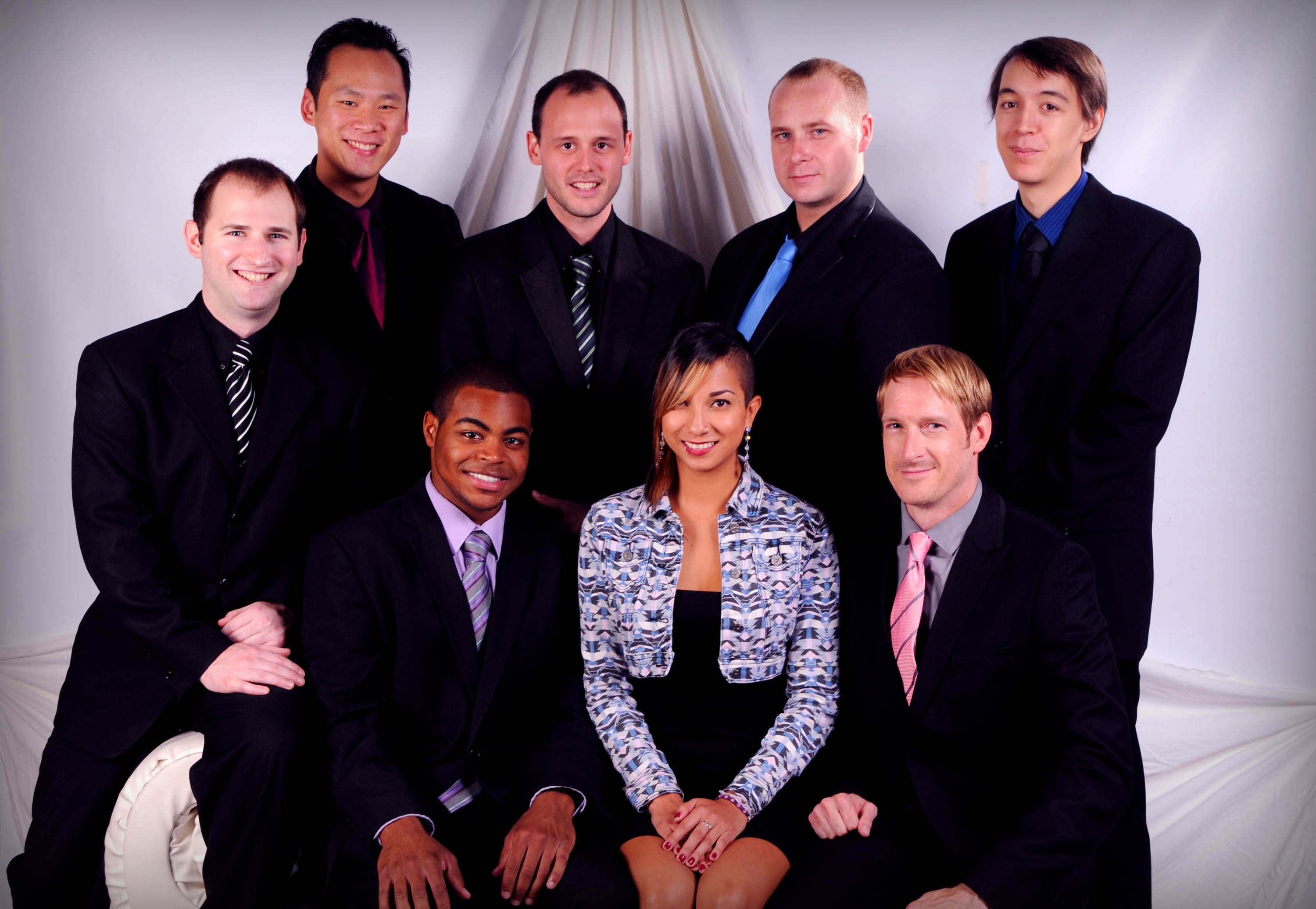 We play on the main theatre stage for the Welcome Aboard Show, Dancing with the Cast show, and the production shows Grooveline, Win & Legends. Grooveline is a celebration of the 70s era classic tunes; Win is a contestant game-show themed production, and Legends is a guest-participated production show celebrating the American music legends (Gloria Gaynor, Elvis, Michael Jackson, Cher, Bruce Springsteen, Sinatra et al.). Apart from that our band also plays for the Superstar Live Karaoke, the VIFP (Gold Platinum Diamond members) Dixieland set, a Jazz set and a classic covers of Motown, Disco, Rock'n'roll, Bigband, Country, Pop/Rock and Ballads) ​​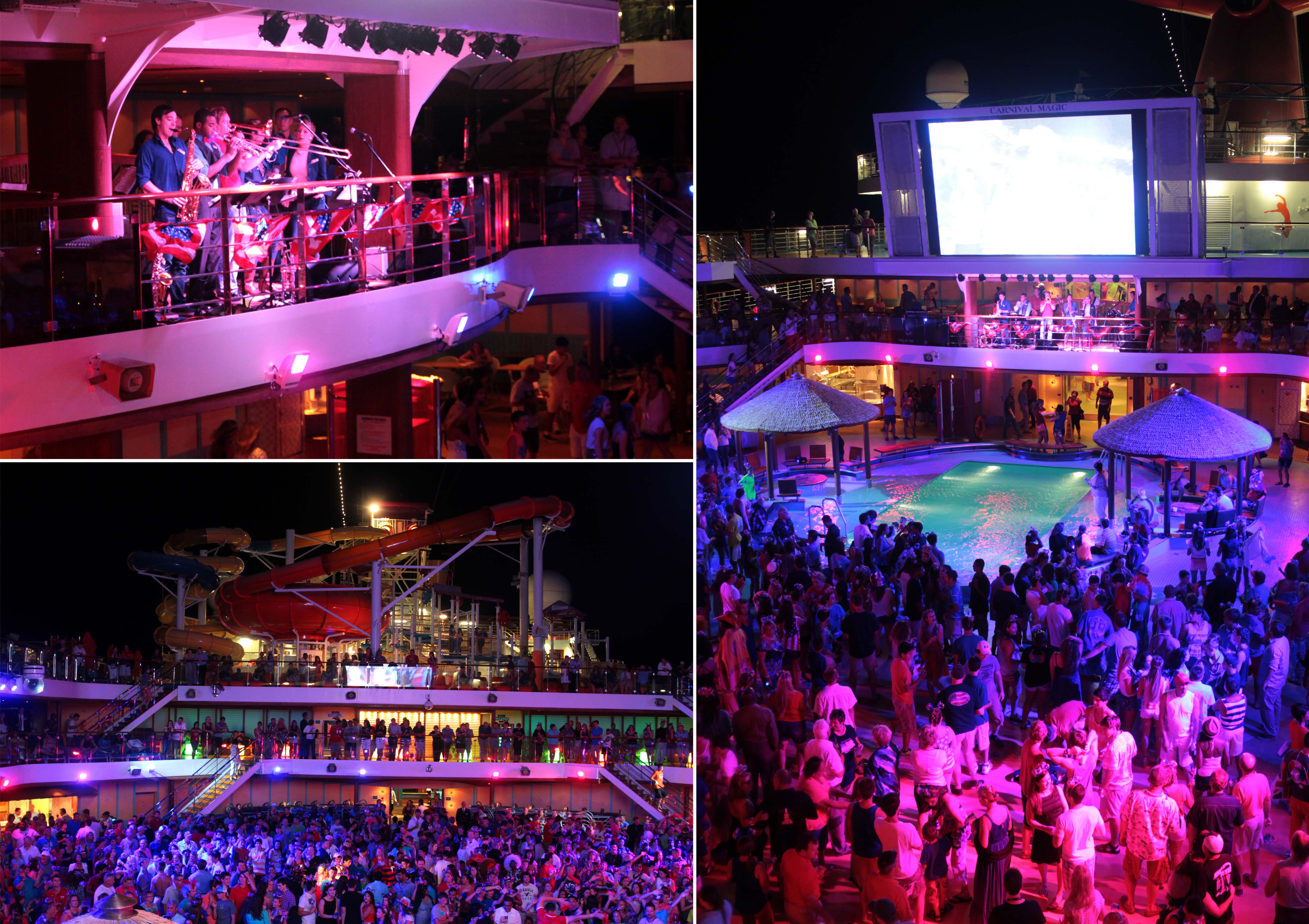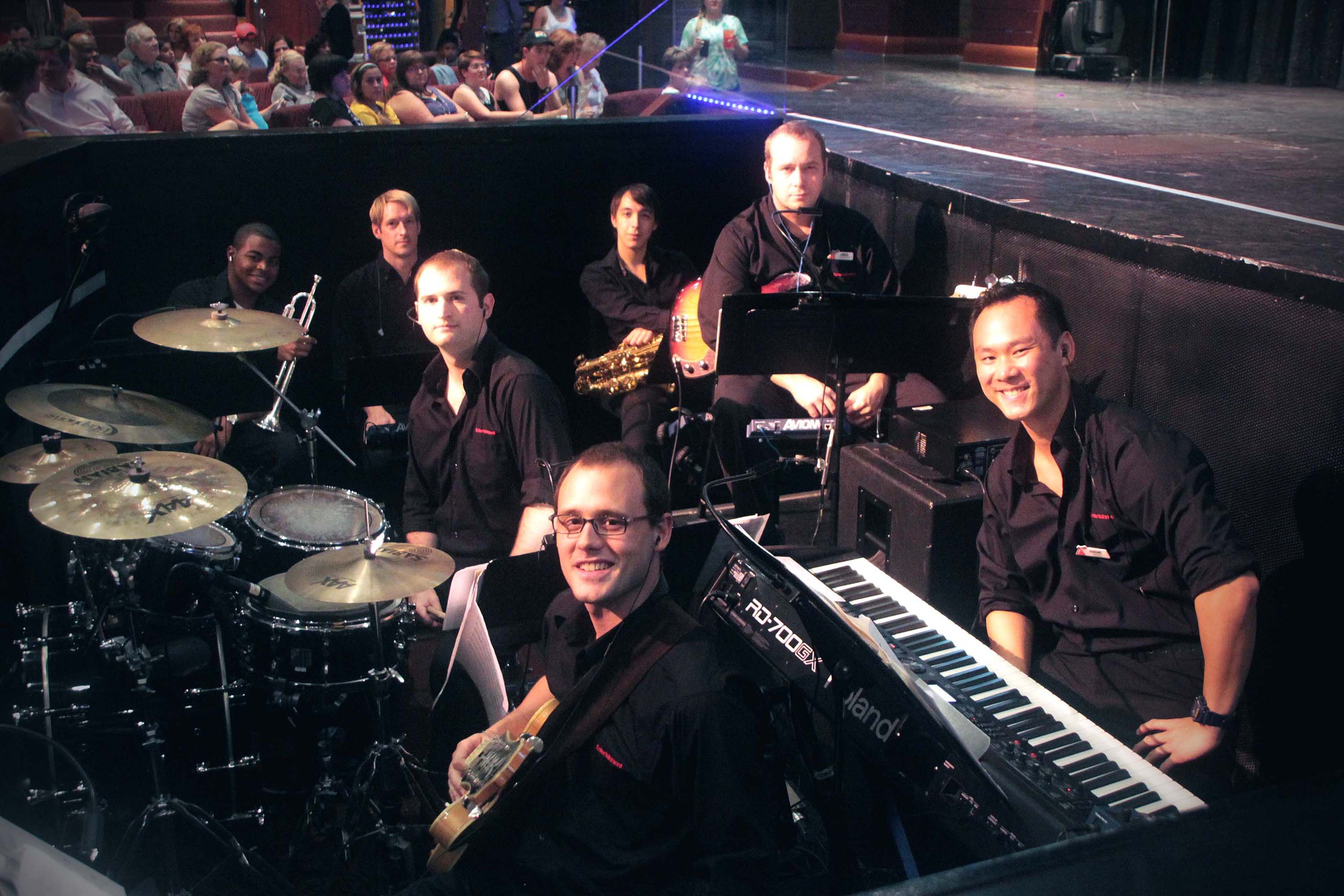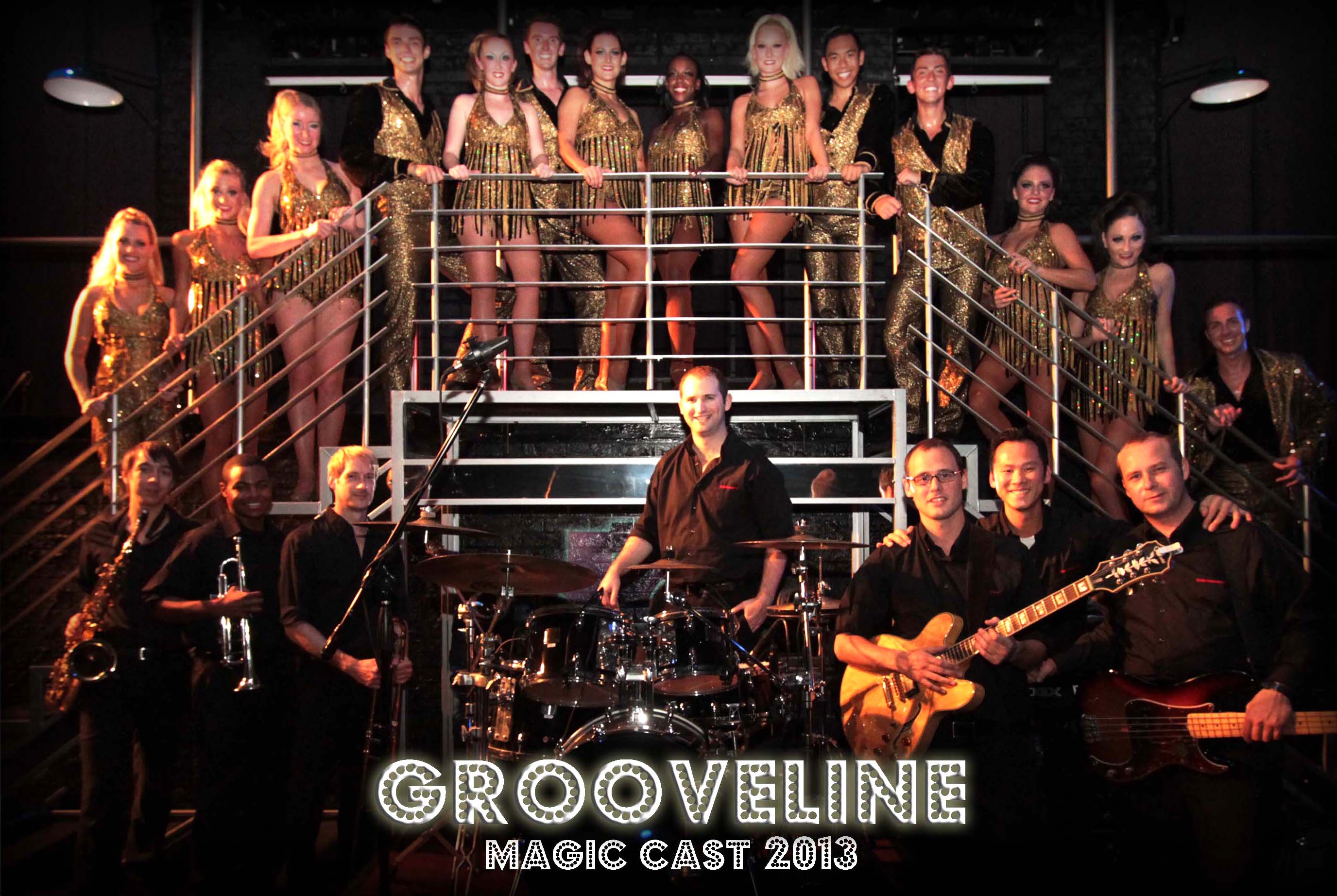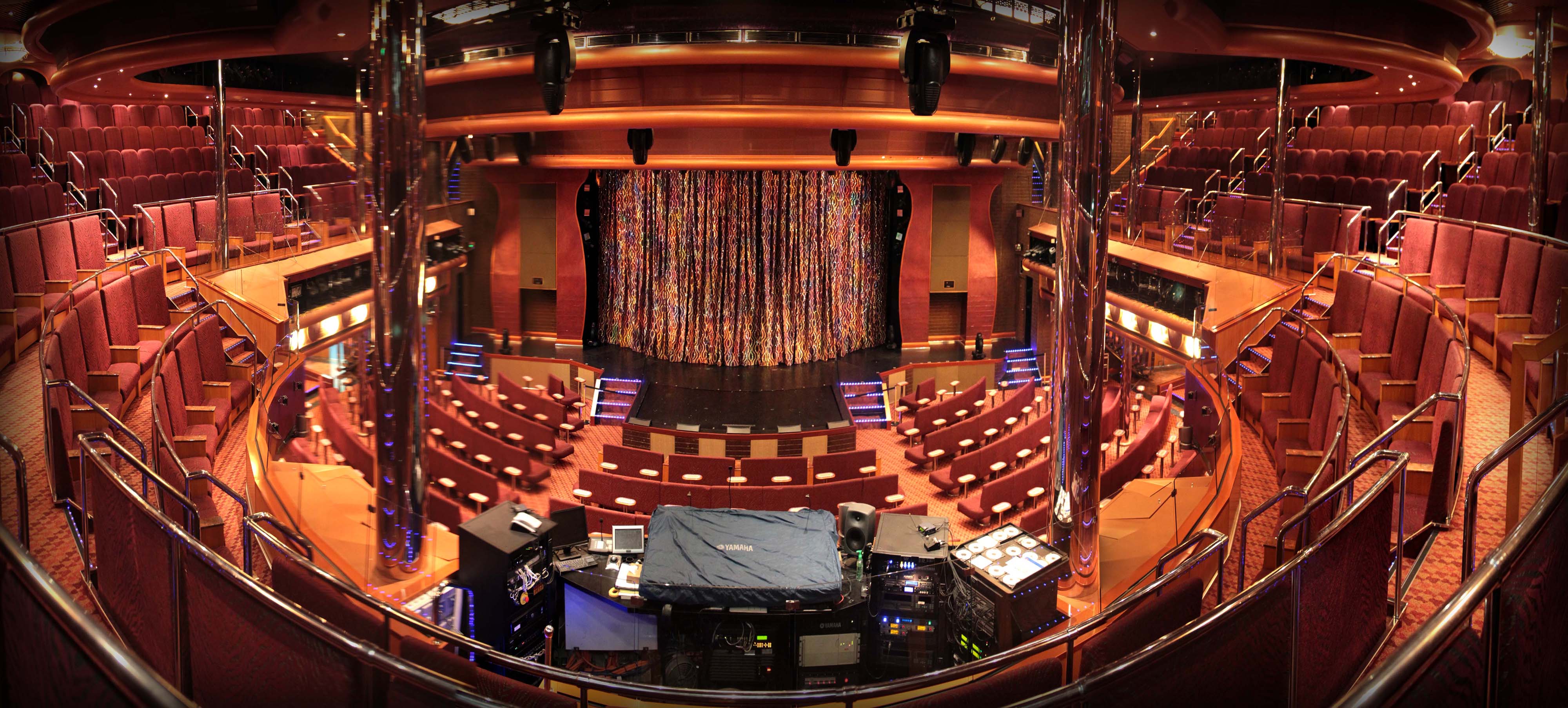 Grooveline is my favorite gig to play as it features the band in a prominent way. We are on a rotating platform in the middle of the stage, rather than being sunk in a band-pit out of visibility. We also play the whole 50min show without music in front of us, so we had to memorize it all quick fast when we arrived onboard! The band is set in the pit for the Win & Legends show, which sucks for me as I can't enjoy seeing what's happening on stage!

The Atrium Lobby and Stage The Showtime Theatre Lounge

The Showband (Clockwise from Left):
Jerod (MD & Drummer), Me, Pablo (Guitar), James (Bass), Dylan (Sax)
Brendan (Trombone), Gabrielle (Singer) and Randy (Trumpet)​​​

Performing at the Ocean Plaza Grooveline Dance & Singing Cast with the Band Performing the 4th of July Lido deck Party

Apart from the Showband job, I've acquired two other side-jobs with Park West Art Gallery (setting up the gallery and working at the auctions) and OBM Fun Shoppers. It keeps me busy & occupied, as most of you that know me well would understand is how I roll! And it brings me some extra income which doesn't hurt. In addition, Jamsta Photography has thrived in the last 2 months with commissions to do photo-shoots from cast members, comedians, magicians and the comedy club manager; with a few more jobs lined up! It's certainly been a prosperous time with my photography!
​
Life onboard has been great. My room-mate is Jonathan, the lighting technician whom I worked with on the Glory. The band gels really well and we get plenty of time to socialize during the week. We live in the Entertainment corridor, which consists of the Social Hosts, Lighting-Sound-AV-Stage Technicians, Dancers, Sports staff and Musicians. It's certainly never a dull moment in the corridor, with shenanigans carrying onto the early hours of the morning almost every night! Off the ship, we've been enjoying the beaches, resorts and simply trying to find a place with good food and wifi (Internet onboard costs $20 for 200mins; which is roughly $6 an hour...!)

Apart from that, my ship-life consists of working out in the gym or open deck 4-5 times a week, working on photos, journalling, reading, laundry and continuously having to tell people why I don't like to drink alcohol. I also managed to get connected with a Christian fellowship group, with brothers-in-Christ from Philippines, Jamaica, India and Trinidad Tobago. We meet up twice a week to catch-up, pray, share in God's word and worship. I'm also running training series workshop on Evangelism, which I'm excited about!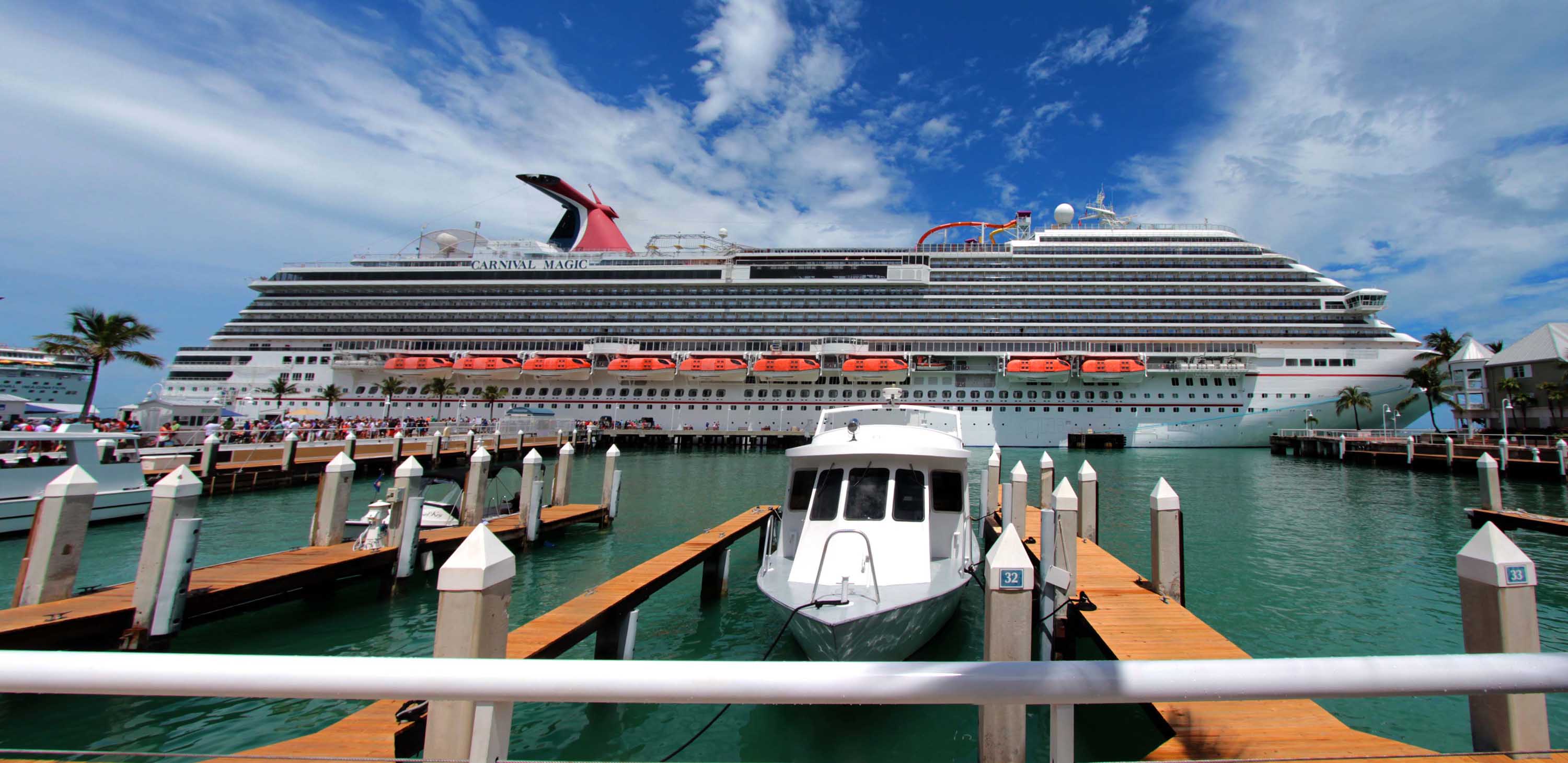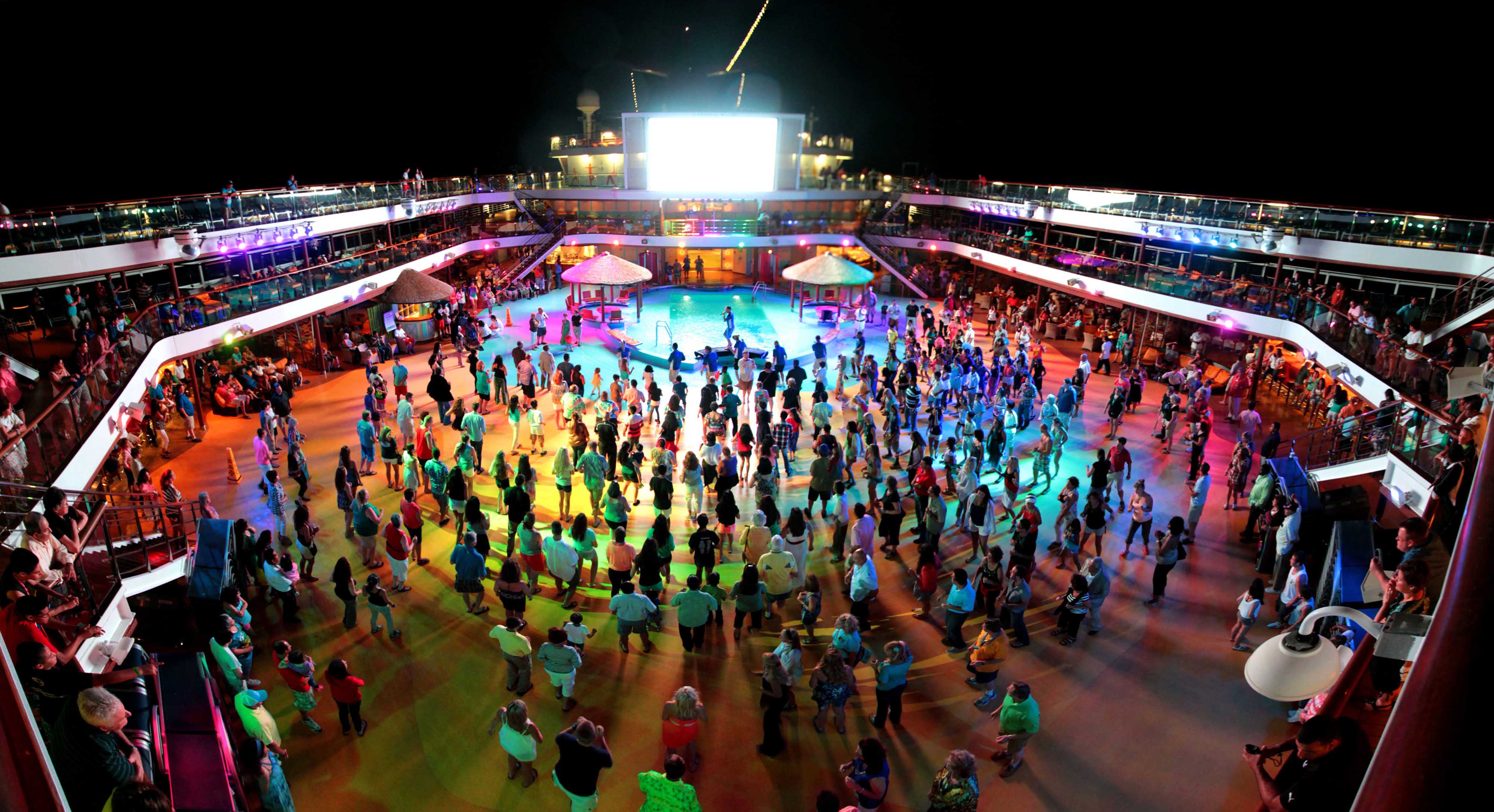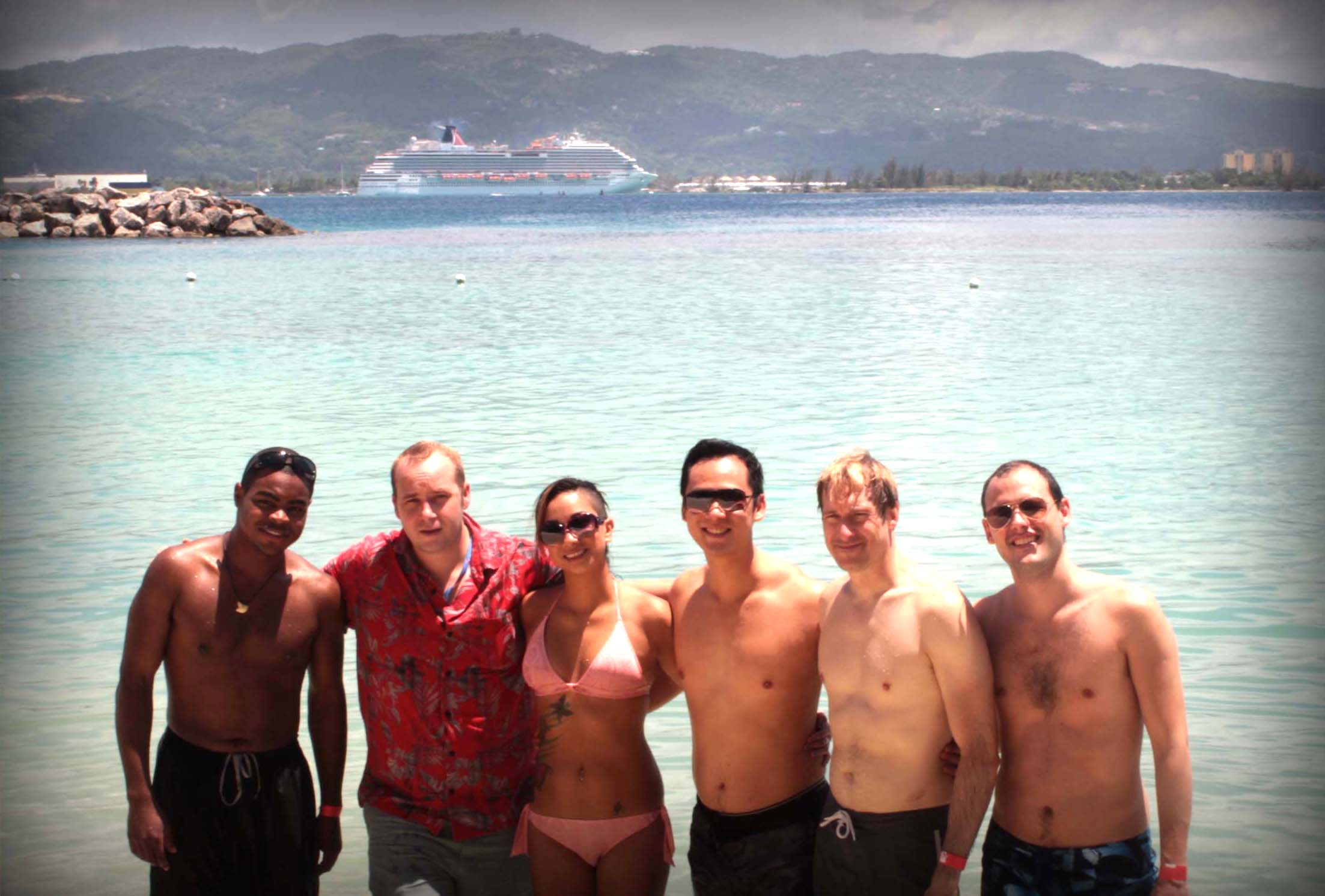 Anyway that's all from me for now; will send out another update when there's more news to share!
​
Ciao for now!

The Band out at Aqua Sol beach in Jamaica The Magic docked in Key West, Florida

The Latin Fiesta deck parties that happen on Lido Deck every week
The band in the Band-pit before the Production Show begins